Graphical User Interface
A Graphical User Interface has been developed for Polyphemus. Please note that it does not allow to do everything Polyphemus can. For instance you can only consider passive gaseous tracers and you can only perform preprocessing with one MM5 file. It does not allow to use the wide variety of models or modules offered by Polyphemus. It is only an easier-to-use introduction to Polyphemus.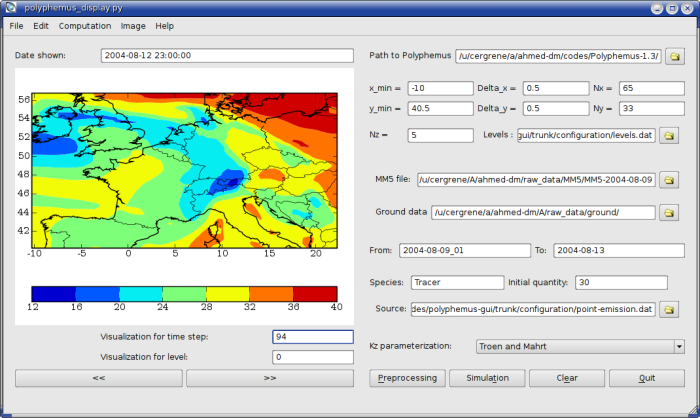 Requirements
The graphical user interface is based on PyQt 4 a set of Python bindings for Trolltech's Qt 4. In order for it to work you have to install PyQt 4, to have Python fully working and you also need the latest version of Polyphemus.
Download and installation:
You can download the graphical user interface.
To extract it, type:
$ tar -xjvf  Polyphemus-GUI-Qt4.tar.bz2
This will create a directory named Polyphemus-GUI-Qt4/ divided into:
configuration/: the "raw" configuration files, before they have been modified using the information entered in the dialog box;
help/: two help files;
images/: the image used;
work/: where the work is actually done and the modified configuration files stored.
The directory also holds four python files: simulation.py which defines some classes and functions used to launch a simulation, date.py with functions to manage time, classes.py which defines most classes used and polyphemus_display.py which starts the graphical user interface.
To start the interface, type:
$ python polyphemus_display.py
Then open the help file with "Ctrl + H".
Older Version
An older and unmaintained version of the interface, based on PyQt3, is still available
here
. It is not adapted to Polyphemus 1.3, but it should be easy to modify the configuration files in
configuration/
(not
work/configuration/
) to adapt them.